Reading's Civic Centre approved for demolition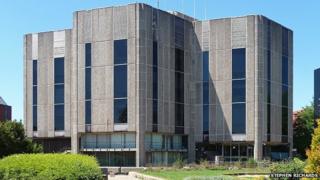 The demolition of the Civic Centre in Reading has been approved by the council.
The 1970s concrete building will be vacated over the coming few weeks.
But the planning committee confirmed the nearby Hexagon theatre, also built in the 70s, would not be demolished during redevelopment of the area.
Council leader Jo Lovelock said: "The Hexagon is remaining and there will be an interim plan giving the place a bit of a facelift."
Asbestos
Just under 1,000 staff members based in the Civic Centre will move in phases, with the aim that the building will be empty by 15 December.
The council said the £25m move to its new base in Bridge Street was cheaper than the £100m renovation work that would have been needed at the Civic Centre.
The building was "at the end of its design life" a council spokesman said, and has asbestos, which made it increasingly expensive to maintain.
Redevelopment plans for the site were announced in 2012.
Proposals will be drawn up for a mixed residential and retail development on the site, which includes Hosier Street.