Windsor and Maidenhead World War One tribute project launched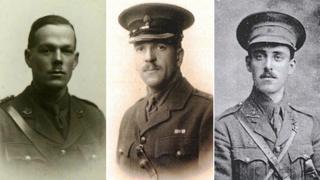 An online World War One tribute for the fallen soldiers from a Berkshire borough has been launched.
For King And Country is an interactive site telling the stories of those listed on the Royal Borough of Windsor and Maidenhead's 203 war memorials.
The project was funded by a £94,000 grant from the Heritage Lottery Fund.
Project leader councillor Christine Bateson said it was "vitally important" those who died did "not become names on a forgotten memorial".
'Know their stories'
The website, due to go live in early 2015, will feature an interactive map, a schools page and an events page.
Special symbols will mark the location of the memorials, commemorating both Allied and enemy casualties, with additional information including photographs and letters.
The project was launched on Friday evening by Mayor Richard Kellaway at Maidenhead Town Hall and is set to be completed in 18 months with the help of 50 volunteer researchers.
The project is still seeking people to help run events and work with the public to collect information on stories and artefacts.
Councillor Eileen Quick, cabinet member for leisure and libraries, said: "We believe that one of the greatest ways to honour the people who left the borough to fight in the Great War is by making sure we know their stories."
New signage for key memorials and a guided walks programme are also planned along with drama workshops and a performance.