Reading Prison: Delay on future is 'disgraceful'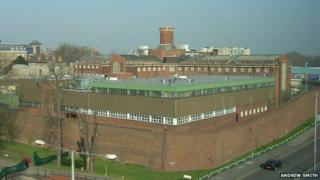 The future of Reading Prison remains unclear a year after its closure.
The Ministry of Justice, which owns the Grade-II building, has said it is "considering options" for the former jail but has refused to disclose them.
The BBC revealed in July it costs £20,000 a month to pay for the site.
Reading council's deputy leader Tony Page said the delay was "disgraceful" and it was important the town knew what was happening to such a significant building in the Abbey Quarter.
Mr Page said: "It is about time the Ministry of Justice got itself sorted out. If it can keep the closure of Reading Prison in total secrecy, then it should have the wherewithal to plan its future use.
"The council has done its part months ago, by setting out a development framework and the constraints of that site, and we had hoped the Ministry of Justice would have pulled its finger out."
Became a hotel
HMP Reading, the subject of Oscar Wilde's poem The Ballad of Reading Gaol, was due to close on 20 December 2013, under government plans to replace four prisons with a super-prison.
However, in November last year it was announced that it had closed early.
Former prisons have been put to a variety of uses in other parts of the country.
HMP Oxford became a hotel in 2005 and earlier this year HMP Canterbury, once home to Ronnie and Reggie Kray, was bought by Canterbury Christ Church University to expand its campus.
A Ministry of Justice spokeswoman said Reading Prison was closed to reduce costs.
She said: "We are still considering future options for the site."
She declined to comment on the timescale of the decision.