Britain First Owlsmoor meeting venue pulled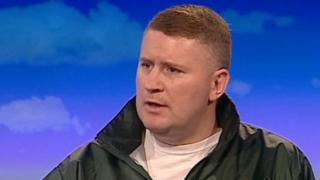 The far-right Britain First party has been told it can no longer hold a conference at a community centre in Berkshire.
Bracknell Forest Council said the management group that runs Owlsmoor Community Centre near Sandhurst, had pulled the booking for Saturday following discussions with police.
The party said it had "back up venues" elsewhere in Berkshire.
Council leader Paul Bettison insisted the decision was "apolitical".
"The meeting had been booked as a group meeting for 100 people without any reference to Britain First.
"However, as soon as it became apparent that the organisation was planning to host their meeting at the community centre, steps were taken to review the booking as counter-protests to the booking were likely."
A statement issued by Britain First said the decision was "mob rule triumphs" and blamed pressure from "left wing fascists".
The party was was formed in 2011 following a split in the British National Party.
Leader Paul Golding has previously described his party as a "street defence organisation". It has half a million followers on Facebook, despite having no democratically elected representatives.