Theale Lake floating homes plans 'downsized'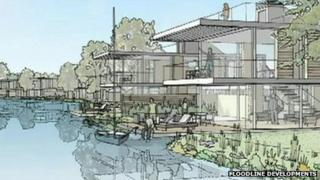 Plans for a waterside development in Berkshire which include floating homes are to be downsized, according to developers.
Floodline Developments said thirty "can-float" houses would still be included in the proposals for Theale Lake, but added the total amount was likely to be reduced from 220 to 150.
Managing director Justin Meredith said the changes followed local feedback and were also due to viability and costs.
New plans are expected in January.
Some local residents had said they were worried the development would increase the risk of flooding in the area and damage wildlife.
Floodline Developments said its proposals aim to alleviate flooding and include plans for a nature reserve.
Mr Meredith said hydraulic model testing was currently being carried out to "prove flood alleviation".
Hangar Road, close to the proposed Burfield Park development site, was closed due to flooding last winter.
A planning application is yet to be submitted to West Berkshire Council.