Storm-hit Thames Path repairs begin in Hurley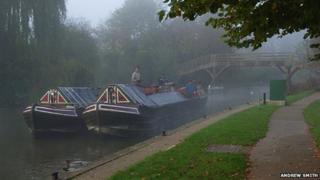 Work to repair a stretch of the Thames Path in Hurley, Berkshire, destroyed by winter storms, has begun.
The 295ft (90m) stretch of path in the village collapsed during flooding when part of the riverbank was washed away.
Repairs to the path, which has been closed and diverted since 19 February, were expected to take about 10 weeks.
The Royal Borough of Windsor and Maidenhead said the £350,000 works were being funded by the government's flood recovery fund.
The council was awarded £2.1m of government funding to carry out major flood damage repair work following the winter storms.