Three new tower blocks plan for Reading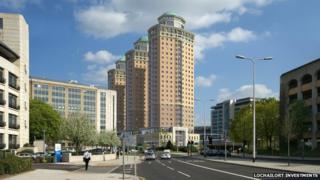 Proposals to build three new tower blocks in Reading have been unveiled.
If approved, the towers would be built on the corner of Napier Road and Vastern Road, near Reading Bridge.
The development is one of a number of major investment projects driven by the recent expansion of Reading station.
The tallest tower would have 27 floors and be 97m (318ft) high, about the same height as the tallest tower in the Station Hill Development, which has recently been approved.
The site is currently home to a BMW car dealership, between Kings Meadow and the railway.
Developer Lochailort Investments is working with ADAM Architecture on the proposals.
Lochailort managing director Hugo Haig said: "It's a mixed-use scheme. We have three retail units and approximately 350 flats.
"It's been designed from the outset for rental or for private sale.
"It's supposed to be a landmark building - a building that should stand out and hopefully be a legacy building for the future."