Demolition of Bracknell's Winchester House begins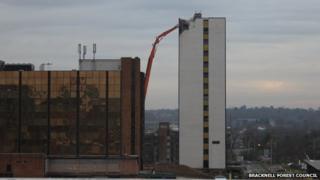 Work to dismantle a 12-storey tower in Bracknell has begun.
Plans to demolish Bracknell's Winchester House to make way for a £50m, 19-storey building of 311 apartments were approved in April.
Work to remove internal fixtures and fittings began in September. Demolition is expected to take eight weeks.
Winchester House was last occupied by technology firm 3M in 2004. Plans to regenerate Bracknell have been in place since 2002.