Reading-to-London persistent rail delays 'not acceptable'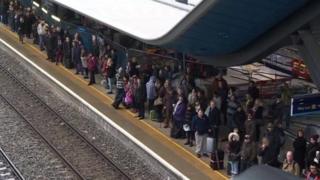 Persistent rail delays on the commuter line between Reading and London Paddington are "not acceptable", the rail minister has said.
First Great Western (FGW) apologised on Monday after passengers faced delays of up to an hour following signalling faults in Acton, west London.
Rail Minister Claire Perry said she would be meeting Network Rail and FGW to discuss the problems.
Network Rail said it did not know what was causing the wider ongoing issues.
£350m investment
Claire Perry, parliamentary under-secretary for transport, with responsibility for rail, said: "Delays of this length are clearly not acceptable and I will be asking Network Rail and FGW for an explanation of the problems experienced yesterday.
"I also fully understand the frustration of rail passengers forced to stand on these services.
"That's why £13m is being invested to create 3,000 more standard class seats a day on First Great Western's services - an increase of nearly 16% in the busy morning peak into London."
The delays on Monday from Reading, Berkshire, into London Paddington was the sixth such incident since October.
Shadow rail minister Lilian Greenwood said more investment was needed in new carriages and rail infrastructure.
She said: "It is about investing for the longer term. The introduction of the new IEP (Intercity Express Programme) fleet of trains which was put into train by the last Labour government has been delayed because the government let it sit on the stocks for two years.
"Those would deliver 20% more seats and would be much more modern trains."
Network Rail said it was investing £350m to improve signalling technology.
It advised passengers to check National Rail Enquiries before they travelled.