Viaduct work at Reading station 'will disrupt trains'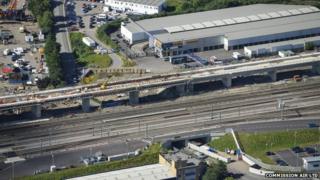 Rail passengers will face train cancellations and delays of 40 minutes in Reading over the Christmas period while work on a viaduct is completed.
First Great Western (FGW) warned of the disruption as 800 Network Rail staff complete work on the railway line flyover to the west of Reading station.
FGW spokesman Dan Paynes said: "You are looking at some increases in journey time and not quite as many trains".
Work will start on 24 December until 4 January.
'Huge junction'
The 2km-long (1.24 miles) viaduct will take fast mainlines over freight and relief lines to free up pinch points on the network at Reading.
Mr Paynes said: "If you imagine Reading is this huge junction with trains coming from the north, south, east and west.
"As the number of trains we're running and the number of passengers increases over the years, moving those trains across each other without causing any sorts of problems is becoming increasingly tricky."
He said the new elevated railway line will allow "trains to cross over each other without being held up".
"This idea that a lot of people will have experienced of waiting outside Reading station for a platform should soon be a thing of the past", he added.
Work will affect journeys between Reading and London Paddington.
It is one of the final phases of the £895m redevelopment project at Reading station.
For more information about disruption to services at Reading over Christmas check FGW's website.