Reading armed robberies spark manhunt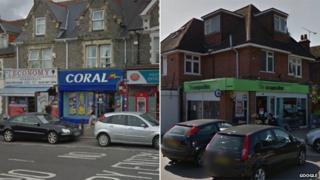 Two armed robberies at a bookmakers and a supermarket in Reading have sparked a manhunt.
A man placed what appeared to be a gun in a carrier bag on the counter at Coral bookmakers in Whitley Street before demanding money at about 21:20 GMT on Tuesday.
The second robbery took place at the Co-op store on Wokingham Road at about 06:00 on Christmas Eve.
A man with a knife demanded money and mobile phones belonging to staff.
Det Insp Stuart Bosley said although the robberies were not being formally linked "one of the lines of inquiry that we are investigating is the possibility that they may have been carried out by the same perpetrator".
He said no-one was hurt but added staff were "naturally shaken up".
Although only a small amount of cash was taken from Coral, the offender at the Co-op managed to get away with a substantial amount of money, officers said.
The robber at Coral has been described as black and was wearing black clothing, with a black scarf covering his face.
The offender at the Co-op was a black man in his 20s and was wearing blue jeans, with a dark hooded top pulled over his face. He was carrying a 3in (7.5cm) knife with a black handle.