William Mitchell Bracknell mural saved for revamp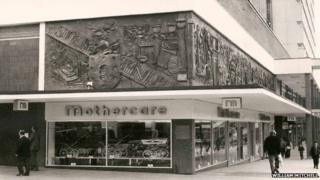 A 1960s bronze mural by sculptor William Mitchell has been safely removed from a condemned building so it can be reinstalled nearby.
The Bracknell Redevelopment Partnership said the work, depicting the history of the town, had been removed earlier than planned and was now in storage.
A spokesman said it would be relocated to an "accessible and sensible location" in the regenerated town.
Other public artworks, including a ceramic stag, have already been saved.
A concrete mural removed from the Crossway before it was demolished is also in storage.
Danes, Jutes and Saxons
William Mitchell, one of the most prolific sculptors of the post-war regeneration era, is better known for creating the bronze doors on Liverpool Metropolitan Cathedral.
Nine of his works have been listed by English Heritage.
Bracknell was designated a new town in 1949 as the government attempted to move millions of families out of London.
Commissioned by the Bracknell Development Corporation in the 1960s, the mural, which had been in Charles Square, describes the history of the new town and its surroundings.
The imagery on the fibreglass and bronze panels makes reference to Roman history, incursions by Danes, Jutes and Saxons and Bracknell's royal links through the ages.
A third of Bracknell town centre is being remodelled as part of the redevelopment scheme, including a 12-screen cinema, department store, supermarket, shops and restaurants.