Ufton Nervet level crossing: Rail bridge 'taking far too long'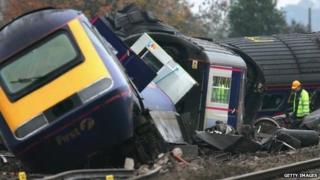 Construction of a bridge over a level crossing where eleven people have died since 2004 will not start until next year, Network Rail has confirmed.
In November, the firm said work on the structure at Ufton Nervet, in Berkshire, would start "very shortly".
MP John Redwood said the company had "constantly told us they're about to start when they're not, so I will believe it when I see it".
Network Rail has described the site as "complicated and constricted".
Seven people died in a crash at the crossing in 2004, which left 120 others injured. Four people have since died at the site.
Last March, the rail operator said it was on course to complete the bridge by mid-2014 or 2015.
Mr Redwood, Conservative MP for Wokingham, said the plan, which Network Rail announced in 2012, had "already taken far too long".
"They've been leading us along on this for several years," he added.
A Network Rail spokeswoman said: "Since announcing our determination to build a bridge over the railway at Ufton Nervet we have been carrying out in-depth design work and assessing the best way of placing a large structure on a complicated and constricted site, near a busy road and a river."
She added the company was working with planning officers "to understand the requirements and permissions that need to be fulfilled before work can start".
Network Rail said it hoped to submit a planning application in the spring, with construction starting in early 2016.