Windsor Castle to show Napoleon's cloak for Waterloo bicentenary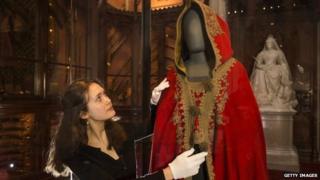 Items seized at the Battle of Waterloo including Napoleon's red cloak are to go on display at Windsor Castle to mark the 200th anniversary of the battle.
The ankle-length cloak was worn by Napoleon on the night before the French defeat and was looted from his carriage after the victory by Allied troops.
The embroidered red felt cloak has been in the Royal Collection since 1837.
A chair made from the elm tree that marked the Duke of Wellington's command post also features in the exhibition.
Made by Thomas Chippendale, the Waterloo Chair features a lion in the village of Waterloo standing on the French standard.
Other personal belongings of the defeated Emperor include a silver-gilt porringer, a small bowl used for food, which was also taken from his train.
Silver and weapons taken from the battlefield along with 38 portraits of those most closely associated with the overthrow of Napoleon are also being shown.
A cast of the Duke of Wellington's hands, acquired by Queen Victoria, will go on display for the first time.
The Table des Grands Capitaines features an image of Alexander The Great commissioned by Napoleon to immortalise his reign in 1806.
The porcelain table never left the factory and was instead given to George IV by Louis XVIII, in thanks for the allied victory.
Waterloo at Windsor: 1815-2015 can be seen at Windsor Castle from Saturday.