Matthew Seddon death: No action for four of five officers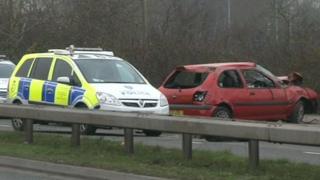 No action has been taken by Thames Valley Police against four of five policemen investigated over the death of a man killed in a police pursuit.
Matthew Seddon, from Reading, was thrown from his car and hit by a police car on the A33 on 11 February 2013.
The 19-year-old was being pursued by the force after failing to stop.
There was no case to answer for three officers, while the case against a fourth and fifth was proven on one point.
The force said no action would be taken against the fourth officer while the fifth received "management advice" and six penalty points on his Thames Valley Police driving licence.
A spokesman for the force said: "At this time our thoughts remain with Matthew Seddon's family, friends and all of those impacted by this tragedy."
The Independent Police Complaints Commission is also investigating the crash but has said it will not publish its findings until after Mr Seddon's inquest, which is expected to take place later this year.