Heathrow Airport boosts new runway noise compensation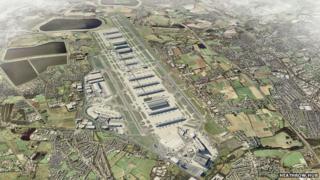 Heathrow Airport has offered to boost the amount it pays towards residents' noise insulation costs from £250m to £700m if a new runway goes ahead.
Packages would include acoustic double glazing, ceiling overboarding in bedrooms and loft insulation.
Two new zones have been drawn up to highlight those affected by noise under both the existing flight paths or by the new runway.
More than 160,000 homes may be eligible in Berkshire, Surrey and London.
Some homes will be able to claim back the full costs while those further out could get up to £3,000.
A free third-party assessment would be made to determine the extent of each home's needs within the eligible zones.
A compensation scheme is already in place covering 40,000 households but they may be able to claim more under the new proposals.
The airport said the improved offer was a result of feedback during public consultations held last year.