Queen's Gloriana barge confirmed for Magna Carta river pageant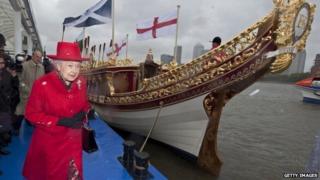 The Queen's Diamond Jubilee barge has been announced as the flagship in a "spectacular" river pageant to celebrate the 800th anniversary of the sealing of the Magna Carta.
The Gloriana will join a flotilla of about 200 boats in June on a two-day voyage from Hurley in Berkshire.
The route, along the River Thames, will end at Runnymede, Surrey, where the sealing of the Magna Carta took place.
The £1m Gloriana led the Queen's Diamond Jubilee Pageant in 2012.
A copy of the Magna Carta will be transported downstream, with actors telling the story of the document.
Councillor Eileen Quick, member for leisure at Windsor and Maidenhead council, said: "I am so excited that this wonderful row barge will be part of these spectacular once-in-a-lifetime celebrations."
Boat owners have until 28 February to register to take part in the event on 13 and 14 June.
---
What is Magna Carta?
The Magna Carta outlined basic rights with the principle that no-one was above the law, including the king
It charted the right to a fair trial and limits on taxation without representation
It inspired a number of other documents, including the US Constitution and the Universal Declaration of Human Rights
Only three clauses are still valid - the one guaranteeing the liberties of the English Church; the clause confirming the privileges of the city of London and other towns; and the clause that states that no free man shall be imprisoned without the lawful judgement of his equals
The British Library has two copies of the 1215 Magna Carta
Source: The British Library
---