Paralympian Simon Goodall's 'dread' at Reading road crossing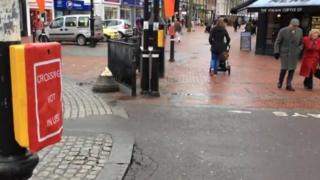 A former Paralympian has described the decision to turn traffic lights off at a town centre crossing as a "nightmare" for visually impaired pedestrians.
The trial switch-off at the St Mary's Butts, Broad Street, Oxford Road and West Street crossroads started in January and will last for six months.
Simon Goodall, 45, who has lost most of his sight, said coming into the town now filled him "with dread".
Reading Borough Council said it had to "balance the needs of all users".
The authority is aiming to cut transport journey times by switching off the lights at the junction, which is used by 2,000 buses each day.
Mr Goodall, from Wokingham, who was part of the British goalball team at the London 2012 Paralympic Games, described the crossing as a "logistical nightmare".
"Now that they've turned the lights off it is virtually impossible for me to be able to cross the road independently. I need to know that I can get over a road safely," he said.
"There's so much noise - building work, buses, other pedestrians - I've got to stand and wait, or I've got to ask for sighted assistance."
Tom Conlin, of the Berkshire County Blind Society, said there was "no consideration" given to the needs of people with disabilities.
Tony Page, lead councillor for strategic environment, planning and transport, said the initial response to the trial was "overwhelmingly positive".
"We fully understand there are a range of concerns. We have a difficult task to balance the interests of a large number of people - we're hugely reliant on public transport," he added.
He insisted it was "not a conventional junction" and was designed to slow vehicles down with defined crossing points and single lanes.
A decision on making the change permanent is to be made after the trial.