New Lower Earley cycleway branded 'unusable'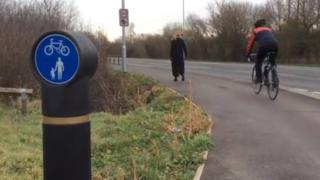 A new cycle route in Berkshire has been branded "unusable" at times by cyclists, four months after it opened.
The 1.5 mile (2.5km) Lower Earley cycleway opened in October 2014 at a cost of almost £750,000.
It has been criticised for having inadequate lighting and being shared with pedestrians.
Wokingham Borough Council said it wanted cyclists off the road for their own safety. It said it was working on replacing street lights.
Gary Baker, a cyclist, said he felt safer cycling in central London than on the cycleway.
"Early in the morning there are times when it is unusable - when it's icy its much safer to be on the road," he said.
The cycleway is 3m (10ft) wide and separated from the highway by a small fence.
John Kaiser, of the borough council, said street lights were being replaced in a separate scheme to replace all street lights.
"I fully understand about sharing. The perfect solution is not to mix them but I believe pedestrians and cyclists mix better than cyclists and cars," he added.