'Urgent action' needed for inadequate Reading schools, Ofsted says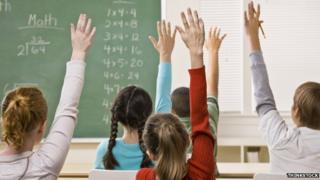 "Urgent action" is needed to tackle the "sharp rise" in inadequate schools in Reading, according to an Ofsted report.
More than 3,500 primary school children in the borough go to a school that is not good enough, inspectors found.
Pupils are also not doing well enough in reading, writing and maths by the age of 11.
Reading council said three in four schools were good or outstanding and that "a great deal of work has already taken place" to improve standards.
'Strive for outstanding schools'
Following the focused inspection of 10 of the 56 schools in Reading in October 2014, Ofsted found only one school had improved since its last inspection and three schools had got worse.
Two of these "had declined so significantly that they now require special measures".
South East Ofsted director Sir Robin Bosher said: "It concerns me that there has been a sharp rise in the number of schools judged to be inadequate in Reading since October 2013.
He added he was "particularly worried" the council's lack of action had led to some schools needing special measures.
Councillor John Ennis, Reading's lead member for education, will be meeting with head teachers and chairs of governors to help "schools to drive forward their own improvement".
He said Ofsted "confirmed the council's view that more needs to be done to ensure every child in Reading has the opportunity to go to an outstanding school".
He added: "Around every three in four schools in Reading is either good or outstanding, but that is not enough.
"We won't settle for good, we need to strive for outstanding schools for all our children."