Memorial service for killed Purley cyclists John Morland and Kris Jarvis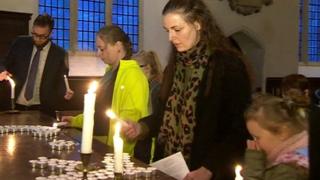 Friends and family have gathered to remember two cyclists who were killed by a drunk driver one year ago.
About 100 people took part in a cycle ride and attended a church service for John Morland, 30, and Kris Jarvis, 39.
The two men died when their bicycles were hit by a driver travelling 70mph in a 30mph zone in Purley-on-Thames, Berkshire, on 13 February 2014.
Mr Jarvis's fiancée Tracey Fidler said she "hadn't even looked" at a bicycle since the night her husband died.
She went on the bike ride wearing her fiancé's Reading Borough Council work pass, which he had round his neck on the evening he died.
"I found it hard just getting physically on the bike, I thought I was going to throw up," she said.
"[I was] shaking, tears coming, but I thought 'I've got to do this'."
The group laid flowers at the crash site before setting off on their bicycles to St Lawrence Church in Reading for the service.
Friends and family paid tribute at the service, which featured candles laid out in the shape of a K and a J.
Both keen cyclists, Mr Jarvis was a father of five and Mr Morland a father of two.
They were hit by Alexander Walters, 31 from Purley-on-Thames, who was over the drink-drive limit and had also taken cocaine within the previous 24 hours.
During the 12 months the fiancées of the two men have planted a memorial tree in Reading and campaigned to have tougher sentences for causing death by dangerous driving.
The two women have secured a meeting with Prime Minister David Cameron on 26 February to discuss the issue.
Walters was jailed for 10 years and three months in April.