Bracknell Forest defends Coral Reef roundabout upgrade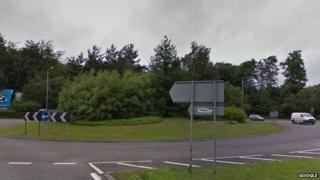 More than a year of "absolute havoc" is feared when planned roadworks take place at a key junction in Bracknell.
Bracknell Forest Council is replacing Coral Reef roundabout with a four-way traffic light controlled junction on the A322 Bagshot Road.
But residents have warned the works, due to finish in autumn 2016, will cause major problems in the town.
The council said it would keep all lanes open until the final stages of the work next year.
Barbara McMinnies, who lives in the area, said: "It will mean absolute havoc everywhere.
"The people going into Bracknell, going into Windsor, no matter where they're going, they're going to be held up by this."
Chris Turrell, in charge of transport at Bracknell, said the £7m scheme, starting in March, was needed to manage traffic flows.
The authority admitted there would be "some disruption" to traffic, with a temporary speed limit of 40mph.
'Increased traffic'
The council is carrying our the work as it anticipates an increase in vehicle numbers over the next 10 years.
"The Coral Reef junction will only be able to cope with the increased traffic flows in future if we make these changes," Mr Turrell said.
"The scheme will reduce congestion and improve travel through the borough in the years to come."
Residents shared their concerns on BBC Berkshire's Facebook page. Nick Austin wrote: "What the area needs is some major road restructuring, not mucking about with a roundabout for two years."
Sarah Boother, who lives close to the roundabout, wrote: "Inevitably it is going to cause absolute havoc and back-up from one end of Bracknell to the other with lots of extra traffic no doubt coming off at the sports centre and cutting through Crown Wood and Forest Park to try to avoid some queuing time."