Sonning Common 'gas canister' bank raid probed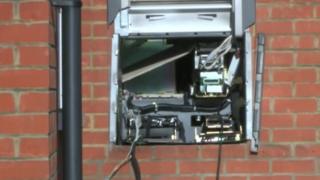 Gas canisters are believed to have been used by thieves targeting a bank cash machine in Oxfordshire
Three men are being sought after the dispenser at the Natwest Bank in Sonning Common was destroyed in the burglary in the early hours of Saturday.
They fled the scene in a dark-coloured car. A quantity of cash was stolen.
In 2006, a mechanical digger was used to rip out the cash machine at the same bank.