Attempted murder arrest after shooting in Cookham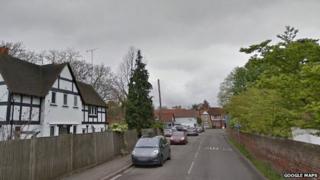 A man has been arrested on suspicion of attempted murder following a shooting incident in front of children in a Berkshire village.
Police said a woman, a man and two children were in a stationary Golf car on Sutton Road, Cookham, on Sunday when they were approached by a man.
An "altercation" took place at about 17:15 GMT and the pedestrian produced a gun, shooting it twice.
No-one was hurt in the incident. A 42-year-old man is being held in custody.
He was also arrested for firearm offences.
Supt Kate Ford, from Thames Valley Police, said: "This was a frightening incident for those involved, and the fact that a firearm was discharged in front of children who were in the car is unacceptable.
"Fortunately no-one was physically hurt.
"Early indications are that this was a targeted attack and there are no outstanding suspects."
Police are making inquiries in the area and are appealing for witnesses.