Fiancées of killed Purley cyclists John Morland and Kris Jarvis meet David Cameron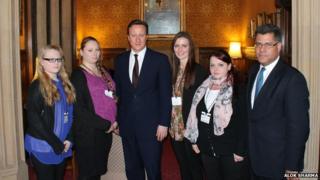 The fiancées of two cyclists who were killed by a drunk driver have met the prime minister to lobby for tougher sentences for dangerous drivers.
John Morland, 30, and Kris Jarvis, 39, died when they were hit by a driver travelling at 70mph in a 30mph zone in Purley-on-Thames, Berkshire in 2014.
Tracey Fidler and Hayley Lindsay are campaigning for consecutive sentencing for each person a driver kills.
The Ministry of Justice is reviewing all driving offences and penalties.
An online petition set up by the two women now has more than 80,000 signatures.
Ms Fidler said: "We feel we have a spur on to continue for John and Kris, their legacies and for future families as well."
Their MP Alok Sharma, who represents Reading West for the Conservatives, said: "This is an issue that has huge support across the house.
"There are tragic cases like this across the country and that's why we need the change now."
Both keen cyclists, Mr Jarvis was a father of five and Mr Morland a father of two.
They were hit on 13 February 2014 by Alexander Walters, 31 , from Purley-on-Thames, who was over the drink-drive limit and had also taken cocaine within the previous 24 hours.
Walters, previously from Grangetown, Cardiff, was sentenced to 10 years and three months in April after admitting seven charges, including two of causing death by dangerous driving.
He was driving a stolen BMW when he lost control and hit the two cyclists.
The women's petition calls for a change in the law, whereby a driver convicted of causing death by dangerous driving would receive the maximum sentence of 14 years imprisonment per person killed.
After their petition received 10,000 signatures the Ministry of Justice said: "We want to ensure that maximum penalties for driving offences reflect the seriousness and culpability of offending behaviour.
"A review of driving offences and penalties has been announced to ensure that the options available to the courts are proportionate and reflect the seriousness of the offences committed."