AWE Burghfield anti-Trident protesters blockade roads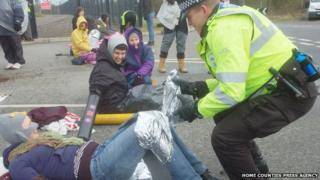 About 150 campaigners for British nuclear disarmament have formed human blockades at a plant in Berkshire that builds Trident warheads.
The peaceful protest at AWE Burghfield closed one of the roads to the site earlier and blocked two entrances.
Blockader Andrew Dey said: "It's time for Britain to join other UN nations in negotiating an international nuclear ban treaty."
Police said it worked with AWE and the council to "minimise disruption".
AWE Burghfield makes warheads for the nuclear weapons system carried by Royal Navy submarines.
Action AWE, which organised the "Burghfield Lockdown", said the protest aimed to bring "work on Trident warheads to a halt".
The group said it would stage "a series of peaceful actions" throughout March.
The blockade started at 07:00 GMT and included protesters from France and Finland.
Supt Jim Weems from Thames Valley Police said: "We respect everyone's right to protest in this way. However, should activity go beyond peaceful those breaking the law will be dealt with proportionately."
A spokesperson from AWE Burghfield said: "AWE recognises the democratic right of individuals to participate in lawful and peaceful protest activities.
"We have been working closely with both Thames Valley Police and the Ministry of Defence Police to ensure the safety and security of the Aldermaston and Burghfield sites and to ensure the impact on local residents is minimised."