Reading FC 'sorry' for ejecting swearing fans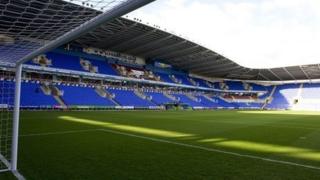 Reading Football Club has apologised to two fans who were ejected for using bad language during a game.
Officials threw out the men during Saturday's 3-0 home loss to Nottingham Forest at the Madejski Stadium.
The Championship club said it had since carried out a full review and found the type of language used should not have resulted in them being removed.
Officials have met the supporters, who have also apologised to anyone offended by their choice of words.
'Over-exuberant'
The Supporters' Trust at Reading said one of the fans in question was "trying to gee the crowd up" but issues arose because he was sitting in a quieter area of the stadium close to families.
The trust described the language as "over-exuberant" rather than offensive, and not any different from that used in more vocal sections of the ground.
In a statement, the club said: "Although there was evidence of foul language being used, it was not to such an extent that would normally result in supporters being asked to leave.
"[We have] apologised for the wrong course of action being taken on the club's part.
"We look forward to hearing the two fans cheering the players on at Madejski Stadium in the future and we have also invited them to be part of a continual review of our match-day procedures."
A number of Reading fans took to social media to show their anger at the men being removed.