Reading Bridge repair closure date announced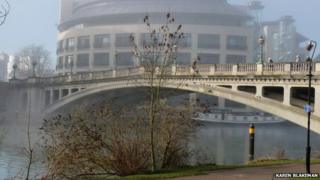 "Significant disruption" is expected when one of the main bridges over the River Thames in Berkshire is closed to all traffic for two weeks from 18 May.
Reading Bridge near the town's station needs "essential work" done to strengthen its 92-year old structure.
The closure until 31 May includes the two weekends but the second week coincides with half-term holidays when "traffic levels are lower".
Buses will be redirected and diversion signs will be put in place.
From Monday 6 April during the Easter break one lane of the bridge and adjacent pavement will be closed for up to 20 days for strengthening work.
During this closure there will be a lane running in each direction over the bridge.
The project is planned for completion in late June or early July.