Reading 'Swan Heights' skyscraper plans submitted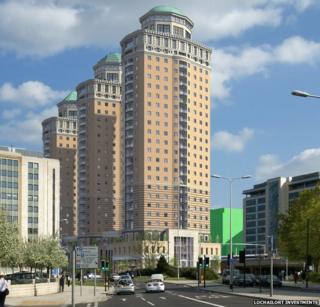 Proposals to build a trio of skyscrapers on the site of a former car dealership have been submitted.
The towers, dubbed Swan Heights, would be among the town's tallest buildings, standing between 87m to 98m (285 to 321 ft) in height.
If built, they would replace a one-storey BMW showroom opposite Reading station.
A public consultation on the plans, set to go before Reading Borough Council, runs until mid-March.
The plans include 352 apartments as well as office, retail and leisure space on the Kings Meadow Road site.
Director Hugo Haig, of developers Lochailort, said the extension of Crossrail to Reading, and the pending direct Heathrow link, was a key reason behind the development near the station.
A nearby development at Station Hill would see buildings up to 168m (551 ft) constructed.
The former dealership on King's Meadow Road has been earmarked by the council's Reading Central Area Action Plan as a specific site for new residential development.