Reading's Central Club revamp in 'cultural quarter' plan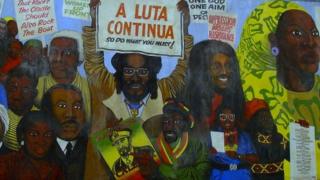 An empty building in Reading is to be transformed into an independent arts centre as part of plans to create a cultural quarter in the town.
The Central Club on London Street is well known for its black history mural, which is 25-years-old this year.
Seven community groups will work together towards a centre for music and art that also reflects African and Caribbean heritage.
Suggested funding comes from creating apartments above the centre.
'Back to life'
The former club, which closed in 2006 following a drugs bust, is near venues such as South Street arts centre, the Global Cafe, the After Dark and the Rising Sun arts centre.
Proposals to Reading Borough Council involve a "cultural quarter" and an "amazing arts space that could transform Reading cultural life".
The project, led by Reading Voluntary Action (RVA) will now work on ideas to bring "the building back to life" for the community and look at funding options.
RVA Chief Executive Rachel Spenser said: "The centre is of particular significance to the African and Caribbean community in Reading and they want something that is going to be able to reflect their heritage and culture of that community whilst at the same time being open to all.
"They thought that was a gap in what is currently provided in the town."
An engineers report will be commissioned to consider how the mural can be restored and maintained.
The council has set aside £220,000 towards building's refurbishment.
RVA will report back in November.