Ascot sign spelled Ascott in error by contractors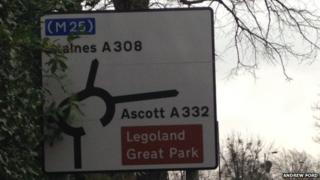 A sign which mis-spells the Berkshire town of Ascot, renowned for its racecourse, is to be corrected.
Contractors wrote Ascott, which is a hamlet near Leighton Buzzard, instead of the more well-known Ascot.
Andrew Ford took a photograph of the erroneous sign in Windsor and said on Twitter: "You would have thought they had done their homework."
A Royal Borough of Windsor and Maidenhead spokesman said the sign had been created by a contractor.
Not 'too impressed'
A piece of tape has now been placed over the extra letter on the Osborne Road sign until it can be corrected permanently.
Mr Ford tweeted a picture of the sign, which has been seen by 4,000 people.
He said: "There is a statue of the Queen on a horse at the roundabout and I can imagine she is looking down and isn't too impressed."
A spokeswoman for the Royal Borough of Windsor and Maidenhead said: "We will be working with the contractor to make sure our Ascot is not confused with Ascott in Buckinghamshire again in the future."