Windsor boat owner families 'forced out' by redevelopment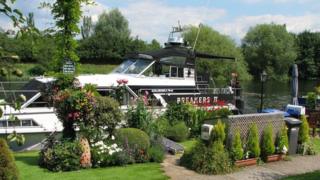 Some families living on boats in Windsor are being forced to sell their homes because the site is being redeveloped.
Owners Haulfryne Group wants to sell new houseboats from Willows Riverside Park where 17 boats are moored.
Resident Mike Orme "loves the lifestyle" on the river and said leaving it behind "through no choice of our own, is heartbreaking".
Haulfryne Group said it was exercising its rights within the law.
Several residents are selling their boats whilst others are moving as far afield as Kent and London.
But Mr Orme, who has lived at the site for nine years with his wife, has a Broom Ocean 42 too big to move down canals.
"The moorings we're living on are the only legal live aboard residential moorings on the upper Thames," he said.
"We'll have to rent somewhere locally. Hopefully we can afford it."
'Sympathy and concern'
Ross Savage, who has also lived on the site for nine years with his girlfriend, said: "I don't know where I'll go.
"I'm on a waiting list for an Environment Agency lock side mooring… but the waiting time is about five years. That leaves me a bit stuck."
While former resident Roger McDonald and his wife moved out ahead of the notice deadline of 60 days.
His wife had to quit her job and his daughter had to move schools, he said.
Haulfryne Group said it was exercising its rights under agreed terms to terminate licences, but would do everything "reasonably" possible to come to an agreement with those in difficulty.
It added: "We of course have a great deal of sympathy and concern for our existing licence holders and with that in mind increased their notice period from 42 days to 60."
The deadline for moving is 25 June.