Network Rail in tree-cutting row at Sonning Cutting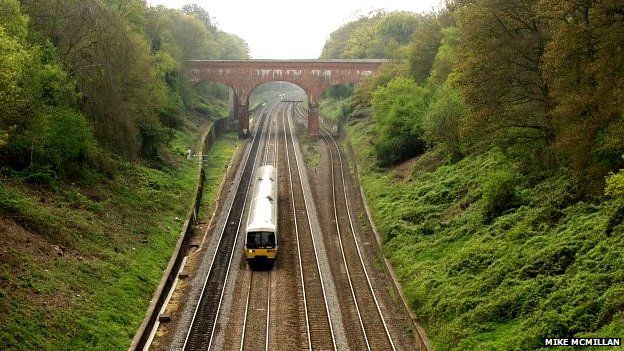 Network Rail has been accused of ignoring tree felling laws after cutting back large parts of woodland by rail tracks near Reading.
It is an offence to destroy a bird nest between nesting season, which runs between the end of March and August.
The company was clearing trees at Sonning Cutting in April when workers were spotted by members of the public.
Network Rail said it had placed "exclusion zones" around areas where there was evidence of nesting.
A spokesman for the firm said it was clearing the area as "excessive growth" of vegetation by the railway could "obscure signals, damage overhead power lines or make our employees workspaces unsafe".
The Royal Society for the Protection of Birds spokesman Graham Madge said Network Rail should clear the trees and plants outside of the nesting season.
He said: "There is a very clear season from the end of August until the end of March where Network Rail can clear as much vegetation as they feel necessary in order to keep the trains running.
"We think once it gets to 1 April track side clearance of vegetation needs to cease."
The Network Rail spokesman said work had been completed by 2 April and that the following week had been spent tidying up the area.
He said: "We do try to avoid significant tree cutting during this [nesting] period.
"It is a delicate balance of our obligations to keep passengers safe and our responsibilities to our neighbours and the wildlife living trackside."
Related Internet Links
The BBC is not responsible for the content of external sites.