M4 at Reading closed after cement mixer overturns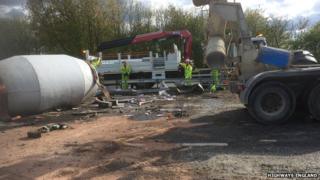 The M4 has been closed eastbound following an accident involving a cement mixer.
The motorway is closed to motorists travelling towards London from junction 11 (Theale) to 12 (Reading). One lane has also been closed westbound.
Resurfacing work has to be carried out as the mixer spilled some cement and diesel on to the road and damaged the central reservation.
It is hoped the road can be reopened before the morning rush hour.
Motorists travelling to London are advised to exit at J13 and head south on the A34 to join the A303 eastbound, then use the M3 and M25 to merge back on the M4 at J15.
Eddie Oag, of Highways England, said: "It is a mess at the moment."