Grant for Reading's Museum of English Rural Life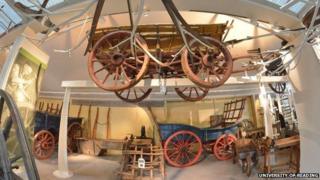 A museum of agricultural history is to be transformed into a centre exploring modern day links between science and the countryside.
The Museum of English Rural Life, on Redlands Road, Reading, has received a £385,000 grant for the project.
Visitors can learn about the science behind the food they eat and find out about nutrition issues.
The university-run museum, which is currently closed, was formerly focused on countryside heritage.
Sir David Bell, vice chancellor of the University of Reading, said: "The university is extremely proud of the Museum of English Rural Life and the extraordinary collections that it holds.
"Connecting these materials with the latest scientific ideas serves to emphasise just how relevant this heritage is to us all."
The project, called Our Country Lives: Nutrition, Health and Rural England was awarded the grant by health charity The Wellcome Trust and is part of a larger £1.7m refurbishment of the site.
Building work is currently taking place, with the museum expected to re-open in April 2016.