Closures begin for M4 roadworks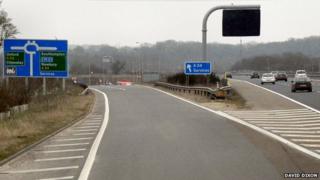 Sections of a major interchange under the M4 will be closed throughout the weekend for bridge repairs.
The work at junction 13, for the A34 at Chieveley in Berkshire, will take place over several weekends until August.
Repairs will be carried out beneath the M4 requiring sections of the A34 roundabout to be closed.
The first closure began at 21:30 BST on Friday with routes due to reopen from 05:30 on Monday. The M4 carriageway itself will also be closed each night.
Routes affected include leaving the motorway and heading to Oxford and joining the M4 from the A34 northbound.
"We're replacing the bridge deck beams which support the road surface along the central reservation of the bridges which span the roundabout," said Steve Cobb, from Highways England.
"Motorists should allow an extra 30 minutes for their journey when the M4 itself is closed as for part of the diversion, we will be taking vehicles along the A4."