WW2 pillbox on Reading canal becomes 'bat mansion'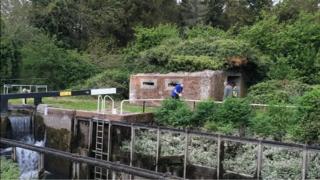 A World War Two pillbox has been turned into a "bat mansion" as part of efforts to combat habitat loss.
The structure, on the banks of the Kennet & Avon Canal near Reading, was originally designed to defend against German invasion.
Its position near the water makes it the "perfect place" for the bats to roost, the Canal and River Trust said.
Habitat loss has been a major factor in a decline in bat numbers, the Trust said.
'All you can eat buffet'
Girl guides have been helping to convert the 1940s building by Garston Lock.
Ecologist Laura Plenty said pillboxes can be easily converted to accommodate bats, which rely on cave-like places to safely rear their young.
"They're basically an open shell which just takes some very small improvements to create crevices that the bats can roost under," she said.
"All 18 species of bat we have in the UK feed solely on insects, so the canal will act as their all you can eat buffet, as well as a superhighway connecting them to the wider landscape."