Empty Reading Prison expense 'a lost opportunity'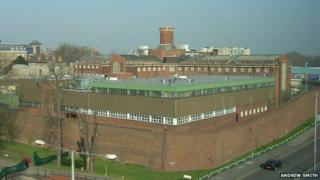 Keeping an empty prison secure at taxpayers' expense is "a lost opportunity", an opposition minister says.
HMP Reading, which shut in 2013, cost the Ministry of Justice more than £262,000 in the 2014/15 financial year.
The MOJ says the closure is saving money and it is still considering options for the site's future.
"Pressure should be put on the MOJ to make a decision," said shadow prisons and probation minister Jenny Chapman.
"For the council and for businesses and people that live and work in Reading, it's a lost opportunity.
"It's good the MOJ are keeping the site secure, but it's time to get it off their books and allow it to be used for something else."
'Effective prison estate'
Figures released to BBC Radio Berkshire, under a Freedom of Information Act request, revealed security of the Grade-II listed building totalled £205,403.16 in the last financial year.
Utility bills were more than £57,000.
Tony Page, Reading Borough Council's deputy leader, said the MOJ should be "ashamed" of the money it has "wasted" while the future of the site remains unclear.
In a statement, the MOJ said security is needed because of issues such as vandalism and the prison's listed building status.
"HMP Reading was closed as part of our programme to create a more efficient and effective prison estate," a spokesman said.
"This closure and the modernisation of prisons has delivered savings of £500m for the taxpayer over the last five years."
The prison, which was immortalised in Oscar Wilde's poem, The Ballad Of Reading Gaol, closed as part of plans to replace four prisons with one super-prison.