Thames Water brook sewage £250,000 fine deemed 'lenient'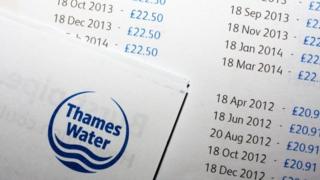 A £250,000 fine imposed on Thames Water after raw sewage was pumped into a rural brook was "lenient", a court of appeal judge has ruled.
Chase Brook, near Newbury, Berkshire was polluted by a sewage leak which continued for a week in September 2012.
A judge at the Court of Appeal ruled the fine imposed in August 2014, which included a further £7,000 in costs, could easily have been higher.
Thames Water said it "very much regretted" the damage caused.
It did not comment specifically on the dismissal of its appeal, but said a thorough clean-up of the watercourse had since been carried out and it had also paid for a National Trust warden.
Clogged-up pumps
Chase Brook flows through a National Trust nature reserve, part of the North Wessex Downs Area of Outstanding Natural Beauty.
The leak was caused by two clogged-up pumps at the Broad Layings Sewage Pumping Station.
Alarms went off more than a dozen times, warning of rising sewage levels, but Thames Water staff did not respond, Mr Justice Mitting said.
The court heard just five months before sewage overflowed into the brook, one or both of the pumps had failed at least 16 times.
Only after the leak was spotted by a member of the public were the pumps finally unblocked.
They were replaced with newer, more robust, pumps, capable of coping with '"rags" thrown into the sewage system.
Thames Water admitted breaches of environmental protection regulations when the fine was imposed.
At the appeal, its lawyers claimed it had been treated far too harshly.
However, Mr Justice Mitting said the "very large" company's prompt guilty plea and mitigation had been taken into account.