Train tribute to Holocaust 'hero' Sir Nicholas Winton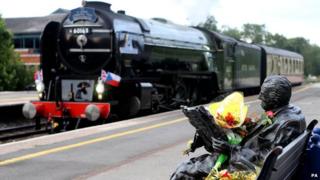 A steam train has made a special stop in Maidenhead as a tribute to Sir Nicholas Winton, who saved hundreds of children from the Nazis.
Sir Nicholas Winton, who died last week aged 106, organised eight trains to rescue children destined for Nazi concentration camps.
The 669 children travelled from Prague to London in 1939.
The locomotive Tornado stopped on Wednesday night alongside the statue of Sir Nicholas on the station's platform.
Decked in Union and Czechoslovakian flags, it stopped at the station for four and a half minutes during a scheduled journey from London to Bristol.
Sir Nicholas's son, Nick Winton travelled in the locomotive's cab during the short journey.
Mr Winton got off the train during the stop to sit next to the statue of his father, he said: "I thought it would be a rather nice opportunity to say hi to dad in a different way."
Sir Nicholas, who lived in Pinkneys Green in Maidenhead, died peacefully in his sleep at Wexham Hospital, Slough on 1 July.
He died on the anniversary of the departure of a train in 1939 carrying the largest number of children - 241.
Following the announcement of his death, tributes poured in from around the world.
Prime Minister David Cameron said "the world has lost a great man".
The Englishman who saved children from the Holocaust
Sir Nicholas was born Nicholas Wertheimer in 1909 to Jewish parents
By 1938 he was a young stockbroker in London
He dropped everything to go to Prague to help Jewish refugees fleeing Nazi occupation
Sir Nicholas organised foster families for Jewish children in Britain, placing adverts in newspapers
The 669 children travelled on eight trains across four countries
Sir Nicholas's team persuaded British custom officials to allow all the children in despite incomplete documentation
Discover how Nicholas Winton pulled-off such a dangerous escape plan