Joanna Simpson trust will fund counselling project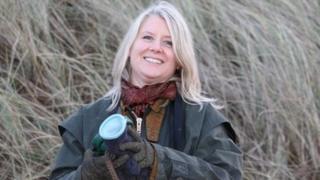 A trust set up in memory of an Ascot woman who was killed by her estranged husband will fund a £15,000 project to help children overcome trauma.
Joanna Brown was bludgeoned to death with a claw hammer in earshot of her two children and buried close to Windsor Great Park.
Her husband, BA pilot Robert Brown, pleaded guilty to manslaughter and was jailed for 26 years in 2011.
The project will help other children who have experienced domestic homicide.
Hetti Barkworth-Nanton, who heads up the Joanna Simpson Foundation, said: "They are often not just affected by the death of a parent, they will have experienced years of domestic abuse."
'Black hole'
She said by providing counselling, they hoped to break the cycle in which childhood victims of domestic violence are unable to break free of this behaviour once they become adults.
Clinical psychologist David Trickey said there was a "black hole" when it came to immediate counselling support for children following a traumatic event.
He said children respond to trauma differently to adults, as they are dependent on carers and their brains are still developing.
In 2012, Yale University had success in reducing post traumatic stress disorder (PTSD) by giving counselling to traumatised children and their carers.
Mr Trickey said it was often difficult for children and their carers to communicate after a death because children did not want to cause upset by talking about what they had experienced.
Children's charity, the Anna Freud Centre will carry out a year-long pilot helping children and their carers. Training will be given by experts at Yale University.