BBC Monitoring staff at Caversham Park in move proposals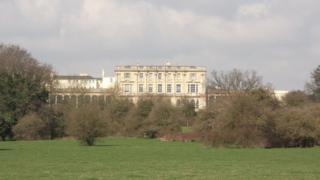 BBC staff based in Reading have been told they could move out of their office building as part of a review.
About 200 members of staff at BBC Monitoring, based at the Grade II-listed Caversham Park, will be affected if the proposal goes ahead.
The BBC said the "large site" was currently "under occupied" and options that "offer better value to the licence fee payer" were being considered.
BBC Monitoring axed 72 posts in 2011 following a £3m cut in funding.
An assessment of financial options is currently under way to see if staying or moving is more cost effective.
The site is also home to BBC Radio Berkshire which would look to move elsewhere in the county if the plans went ahead.
BBC Monitoring was created in 1939 on the outset of World War Two to gather and interpret international news.
It moved to Caversham Park, which is owned by the BBC, in 1942 and now translates information from radio, television, press, news agencies and the Internet from 150 countries in more than 70 languages.
Reporting produced by the service is used as open-source intelligence by the BBC, the British government and commercial customers.
BBC Monitoring is funded by the licence fee and is part of the BBC World Service group.
A BBC spokesman said: "Like any responsible organisation, the BBC constantly reviews its property portfolio. Caversham Park is a large site and is currently under occupied.
"We are assessing how we might best deliver the services we provide from Caversham in a way that offers better value to the licence fee payer."