Uri Geller 'loves' rude message left on Sonning spoon, but not bag of poo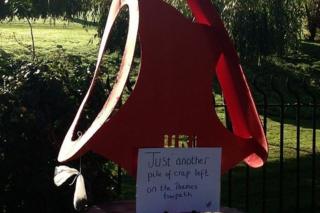 Uri Geller has responded to a mystery person who left a message and bag of dog poo on his new bent spoon sculpture in Sonning.
The TV entertainer said the message, "just another pile of crap left on the Thames Towpath", had made him "laugh".
He said in a Facebook post: "I feel honoured that you have taken the time to add to the sculpture in this way."
But he warned that people should not leave dog poo lying around as it was "disgusting... and dangerous".
'Sculpture has evolved'
Geller, 68, who became famous for bending cutlery, said he thought the sign was "great" after spotting a photo of it in an article on the Get Reading local news website.
He wrote: "It is hand written, which makes it personal, it's humorous, and anything which makes people laugh, or wonder, or question - is brilliant in my opinion, I love it!
"I hope the note hasn't been removed, as the sculpture has now evolved as a result of this note, so I hope it stays for some time, and then is removed and put in the bin rather than littering the towpath."
But he added a strong-worded warning about the bag of dog poo: "Do you not realise how dangerous dog faeces is? If the bag rips, it falls on the floor and a child comes along and happens to touch it. I'm sure that as an intelligent adult, you understand the danger of this?"
The post ends with a note encouraging other people to leave messages on the statue: "If other people want to put notes on the spoon, do it, and post it on my Facebook page.
"If it's a positive note, fantastic, but even if it's not you won't offend me!"
The large red statue was unveiled on Tuesday as a parting gift to the Berkshire village of Sonning where Geller has lived for 35 years.
He said he planned to leave the UK to return to his native Israel.