Reading University staff in vice chancellor no-confidence vote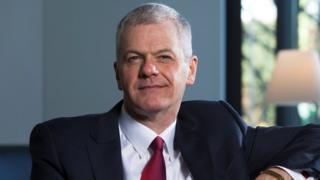 Staff have begun a vote of no confidence in Reading University's vice-chancellor over a review set to affect dozens of jobs.
The vote against Sir David Bell comes after he led a review to restructure administrative services, which a union claims cost £20m.
Activists previously claimed up to 1,500 jobs could be affected, but the figure has gone down significantly.
The university said cuts will save £15m a year and reduce its deficit.
It has not confirmed how many jobs will be affected.
'Reinvest in research'
The review of professional and administrative services (PAS) has been conducted by management consultants PricewaterhouseCoopers.
The University and College Union (UCU) claims it has cost nearly £20m and resulted in plans to centralise administration into hubs by 1 August.
It was previously claimed by activists and UCU the restructure could affect up to 1,500 jobs, but the BBC understands only about 40 people have not been offered a new contract.
A university spokesman said compulsory redundancies would be kept to an "absolute minimum".
"All our major decision-making committees, which include student and staff representation, have scrutinised these plans in detail.
"These changes will move our finances onto a solid footing, saving £15m overall a year and generating £10m a year surplus in our operating budget by 2020 to reinvest in frontline research and teaching," they added.
UCU branch president Dr Paul Hatcher said: "We call on the university to listen carefully to staff and student concerns.
"UCU is willing to talk and negotiate to find alternatives to downgrading redundancies wherever possible."
The vote, which is anonymous and open to all staff, ends on 11 April.
Regardless of the result of the vote, it will not compel Sir David to step down, but it is hoped senior managers will consider alternatives to implementing the changes in the PAS review.