Plans for £49m A&E at Wexham Park set to go on display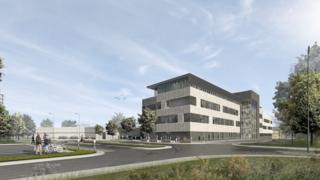 Plans to build a new £49m accident and emergency department are set to go on display to the public.
Wexham Park Hospital in Slough will unveil the proposal for the new centre, which would include a 34-bed assessment unit, later.
Frimley Health NHS Foundation Trust, which runs the Berkshire Hospital, has said the plans are part of a number of improvement works.
If approved, work on the department would begin in spring 2017.
Wards 'too old'
The new department would also include a care centre where patients can be treated without the need for an overnight stay in hospital.
Frimley Health chief executive Andrew Morris said: "A lot of the wards are clearly too old and need major refurbishment, so we're hoping these new facilities will replace [some of the old beds]."
Overall, Wexham Park would receive 100 new beds and assessment trolleys under the new proposals.
In February the hospital was hailed for one of the "most impressive" turnarounds in the NHS.
The Slough centre was rated inadequate in 2014 by the health watchdog, but two years later the Care Quality Commission said care provided by the hospital was good.