Royal Garter procession at Windsor cancelled over rain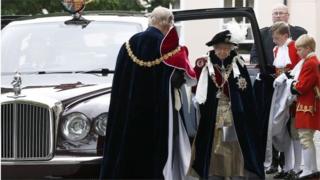 A procession involving the Queen and members of the Order of the Garter was cancelled because of the threat of rain.
The spectacle involving the monarch and order members wearing their velvet blue robes had been due to take place at Windsor Castle earlier.
Hundreds of spectators had lined the streets to see the parade.
Instead, saloon cars and limousines brought the knights to the castle chapel for the annual service.
Attendees included the Duke of Edinburgh, Prince of Wales, Duke of Cambridge, Princess Royal, Duke of York and Earl of Wessex.
Two new knights were installed in this year's service, which is traditionally held on the Monday of Royal Ascot week.
Former lord mayor of London Sir David Brewer and Charles Kay-Shuttleworth, 5th Baron Shuttleworth, the Lord Lieutenant of Lancashire, took up their new posts.
The Queen invested them with their insignia in the throne room at Windsor Castle, and they were officially installed at the start of the St George's Chapel service.
Other members of the order include former prime minister Sir John Major, Lord Phillips of Worth Matravers - the first president of the Supreme Court, and Admiral Lord Boyce - ex-chief of the Defence Staff.
The Queen is sovereign of the order and a number of other British and foreign royals are additional members.