Wokingham park-and-ride plan will 'destroy green space'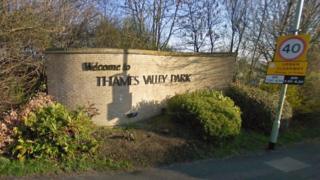 Plans for a new £3.6m park-and-ride in Berkshire would result in a huge loss of green space, according to critics.
Wokingham Borough Council submitted plans for 277 spaces at an undeveloped site near Thames Valley Park, aimed at cutting congestion into Reading.
Rob White, a Green councillor for neighbouring Reading Borough Council, said the site was "wild and unspoilt".
Wokingham council says the scheme is part of a package to help people make sustainable travel choices.
'Massive impact'
Mr White said: "It's going to result in a massive loss of green space from both the park-and-ride - which is going to be built on what's now a wild, unspoilt area - and the park-and-ride is going to be linked by a road into Reading town centre eventually, which is going to take even more green space away."
"This is going to have a massive impact and a the same time it's going to fail to tackle the massive pollution and air problems that we have in the area."
Highways and transport councillor Malcolm Richards, Conservative, said: "This planning application has taken on board responses from the consultation we held at the end of 2015.
"Park-and-rides are part of a comprehensive package to help people make sustainable travel choices."