Plans for multi-million Reading University science park to go on display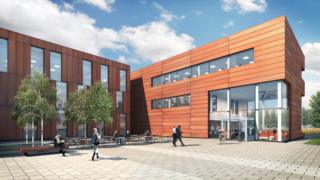 Plans for a multi-million science park in Berkshire are set to go on display to the public.
The first phase of Thames Valley Science Park will cost up to £36m, while future developments are set to cost up to £100m.
The 42-acre site, being developed by the University of Reading, will include laboratory space, a cafe, conference facilities and meeting spaces.
It will also employ up to 5,000 people, according to the university.
Plans for the science park, south of the M4 in Shinfield, also includes a road link to the Eastern Relief Road, pedestrian and cycle paths and digital network links.
Further expansions and phases of the development are expected to continue on adjacent land throughout the next 15-20 years.
Dr David Gillham, director of Thames Valley Science Park said: "We have had a great deal of interest in the first phase of development at the Thames Valley Science Park and these plans will enable us to fulfil our ambitious vision and one we believe will bring huge benefits to the wider area."
Proposals for the development will be on display on 5 July at Shinfield Grange in West Berkshire.