Oakley Green villagers launch bid to buy Red Lion pub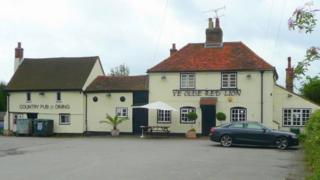 The sale of an 18th Century pub has been temporarily blocked after villagers officially declared an interest in buying it.
The Red Lion in Oakley Green, near Windsor, was registered as a community asset in March after it was put up for sale by Punch Taverns.
Locals confirmed they intend to buy The Grade II listed pub.
Residents had until 14 July to register their interest in order to trigger a six-month moratorium on the sale.
'Form a co-operative'
According to its Historic England listing, Ye Olde Red Lion, which remains open, was once a house, cottage and stable built in the late 1700s and altered in the late 1900s.
Mark Newcombe of the Campaign for Real Ale (CAMRA) said the residents' association met on Tuesday to discuss setting up a co-operative or community interest group and a share offer to buy the pub.
Mr Newcombe, who represents the Slough, Windsor and Maidenhead branch, said: "The next step is to form a co-operative, raise money and, ultimately, put a bid in to buy the pub. They are quite confident that they can do it."
According to the local CAMRA branch, there are nine pubs in Windsor and Maidenhead listed as community assets.
---
What is an Asset of Community Value?
Under the Localism Act, councils are required to keep a list of buildings and land deemed to be assets of community value. Parish councils and community organisations can nominate assets to be included.
If a landowner wants to sell a property that has been listed, they will have to tell the council
If a community group wants to buy the asset, they can trigger a six-month period when the owner cannot sell their property on the open market - this is to give community groups the chance to prepare a bid for it
At the end of the six-month period, the owner is free to sell the asset to whoever they wish and at any price
Source: www3.rbwm.gov.uk