Bank cards stolen from patients at Wexham Park Hospital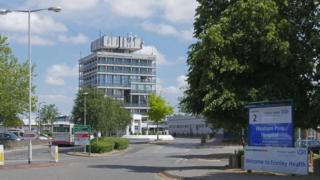 Two people have been charged with theft and fraud after bank cards were stolen from hospital patients.
Norbert Szoke, 28, and Rebecca Szoke, 22, are accused of four counts of fraud by false representation.
Police charged the pair after five patients at Wexham Park Hospital, Slough, had bank cards stolen, or had the card details photographed.
Mr Szoke has also been charged with stealing medical equipment from the hospital.
The bank cards, which were used to withdraw cash and purchase goods fraudulently, were stolen between March 2015 and April this year.
Mr and Ms Szoke, both of Mount Lane, Bracknell, are due to appear at Slough Magistrates Court on 16 August.